Top sellers from Matches, Matchbooks and Lighters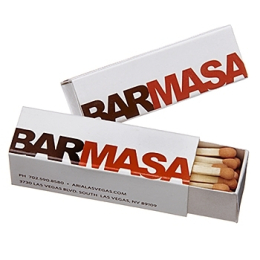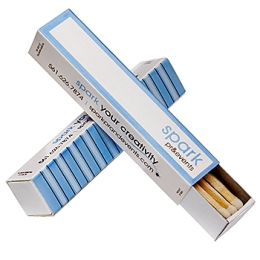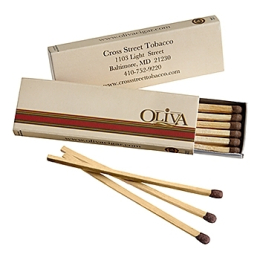 Custom Printed Matches - Style 1020 D
Description
Custom printed logo restaurant and bar matches are a popular promotional item for bars, restaurants, and other businesses in the food and beverage industry. Sudek USA matches for bar and restaurant are small, portable, and affordable, making them an ideal choice for businesses looking to increase brand recognition and customer loyalty.
Custom printed restaurant and bar matches typically feature the business's name, logo, or slogan printed on the matchbox or the matchsticks themselves. This branding can help create a cohesive look and feel for a business, making it easier for customers to remember and recommend it to others.
Restaurant and bar matches are also a practical item for businesses in the food and beverage industry. Customers can use them to light candles, cigarettes, or cigars, or to start a fire in a fireplace or outdoor fire pit. By providing customers with a useful item that also bears the business's branding, businesses can create a positive association in the minds of their customers.
When choosing custom printed restaurant and bar matches, businesses can select from a range of designs, colors, and lengths of the matchsticks. Sudek USA logo restaurant and bar matchboxes are practical option for not only restaurants or bars, but also corporate businesses to offer their custom printed matchboxes to their staff and customers.
Sudek USA custom printed restaurant and bar matches are a cost-effective and practical way for businesses to increase brand recognition and customer loyalty while providing their customers with a useful item.
Custom Promotional Matchboxes with 2-inch sticks show off your logo, message, and contact information. Keep your Match boxes or matchbooks handy on a fireplace mantle or kitchen shelf, these matches are your company's functional business cards and useful reminders for your customers to return. Match boxes and match books are low-cost advertising product with no expiration date! Our Wood candle matches matchboxes and matchbooks, barbecue match books and match boxes, campfire matchboxes, pipe & cigar matchboxes, fireplace matchboxes and matchbooks, gas grill stove match books and matchboxes are business and household necessities. With each customer's use your logo promotional matchboxes and logo promotional matchbooks promote repeat business.
***Note: Domestic custom printed matchboxes are printed in spot colors that are converted to CMYK and match as close as possible to your spot colors. If you want us to print your matchboxes in spot colors we could provide you with our imported matchboxes, that are printed in spot Pantone PMS colors***
Match tip color: White tips on natural wood match sticks
Material - Wooden match sticks
Size- Top/Bottom: 2¼" x 1-3/8"; Two Sides: 2¼" x 3/8" (18-19 Matches / 2-Inch)
Shipping Case: 50 match boxes per inner caddy x 50 caddies = 2,500 match boxes per carton. Dimensions: 24.2" x 15.2" x 11" = 2.3cft. Weight: 34 lbs. Packing on a particular order could be changed from these standard specifications without notification.