Top sellers from Matches, Matchbooks and Lighters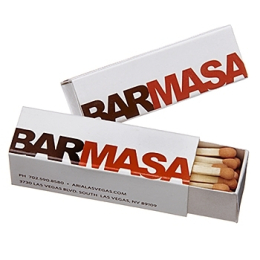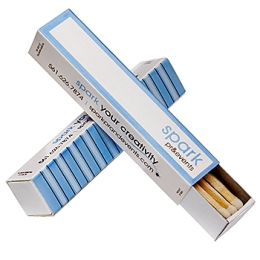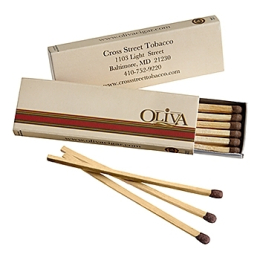 Custom printed promotional matches in bulk - 20 stem - Item 2020
Description
Corporate matchbooks in bulk are a great way for businesses to promote their brand and increase their visibility. These matchbooks can be customized with the company's logo, slogan, and contact information, providing a practical and cost-effective marketing tool. Here are some reasons why corporate matchbooks in bulk are an excellent investment for any business:
Cost-effective: One of the primary benefits of ordering corporate matchbooks in bulk is their cost-effectiveness. The more matchbooks you order, the lower the unit cost. This makes them an affordable promotional tool for businesses of all sizes.
High Visibility: Corporate matchbooks are a practical item that people use every day, especially in social settings like bars and restaurants. Customized matchbooks with your company's logo and information can be seen by many potential customers, increasing your brand visibility.
Convenient Size: Corporate matchbooks in bulk are small and portable, making them a convenient item to carry around. They fit easily in a pocket or purse, which means that your potential customers can take them with them wherever they go.
Unique: Corporate matchbooks in bulk are a unique way to promote your business. They are not as commonly used as other promotional items like pens or tote bags, which means that they can stand out from the crowd.
Customizable: You can customize your corporate matchbooks in bulk with your company's logo, slogan, and contact information. This customization allows you to create a unique design that aligns with your brand identity and helps your business to stand out from the competition.
Here's the most cost-effective advertising medium ever invented! You get 4 exposures in 1 unit: front, top, back and inside. The matchbook has no equal in its low cost per use. It shows off your logo, message, and contact information. It's your functional business card that customers take home and keep. Custom matchbooks are great marketing tools for lounges, bars, restaurants, music venues, and more!
Corporate matchbooks in bulk are an excellent investment for any business looking to promote its brand and increase its visibility. They are cost-effective, highly visible, convenient, unique, and customizable. By placing an order for these matchbooks, you can create a practical and effective marketing tool that can be used by potential customers every day.
Match Tip Stock Color Options- Stock Match tip Color: Choose from 1 of our 16-stock color match tip options.
Custom Match tip color - We can approximately match PMS colors on match tips for a $155.00 up-charge. Color matches are NOT 100% accurate, due to the chemical composition of the match tips. Minimum Order PMS Match tips: 25,000 pcs.
Prices: Include printing each ink color on entire outside cover (front, saddle, back, and flap) with UV gloss coating on duo-white stock. Striker friction on back. Extra charge - matte varnish, PMS-2X inks, fluorescent inks, and metallic inks (gold, silver, copper, or bronze), spot shiny varnish.
SHIPPING:
Shipping Case: 50 match books per inner caddy x 25 caddies = 1,250 match books per carton. Dimensions: 21.2" x 14.1" x 12.7" = 2.2cft. Weight: 16 lbs. Packing on a particular order could be changed from these standard specifications without notification.
Packaging: We use only heavy-duty 5-wall corrugated shipping cartons. Every effort is made to protect the gloss or matte finish on these matchboxes. Hard impacts in shipping may cause smudging and scratching of the finish. This is not a defect in the quality of the product and the factory cannot be held responsible for credits and re-makes due to rough handling in transit.
Multiple shipments/split billings within one year: On total quantity order of 30,000 or more, minimum shipments of 10,000 books are acceptable at no extra charge, not to exceed 4 shipments per order.