Top sellers from Matches, Matchbooks and Lighters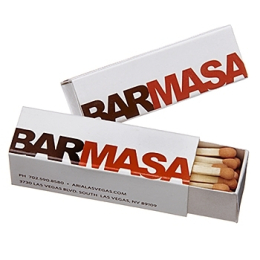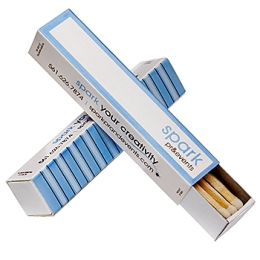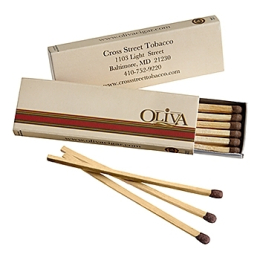 Promotional Cigar Matches - Style 1010 -4L
Description
Custom printed cigar matchbox and other high quality personalized products will promote your marketing message and business.
Custom printed cigar matches are a fun and unique way to promote your brand or event. Your custom personalized lipsticks shape logo matchboxes can be used for weddings, parties, bars and restaurants, hotels, and more. These matches are a versatile marketing tool that can be customized with your logo, artwork, or message. They make for an affordable and effective promotional item that will leave a lasting impression on your customers.
Custom printed cigar matches come in a variety of sizes, colors, and styles to fit your needs. You can choose from classic wooden matches or modern disposable plastic lighters. The custom personalized cigar matchboxes can be printed with your company's logo, slogan, or contact information. They can also be customized with your wedding date, monogram, or a special message to your guests. These personalized matchboxes make for a great wedding favor or a unique way to commemorate a special occasion.
Custom printed cigar matches and personalized matchboxes are also a great way to promote your brand at a restaurant or bar. They can be printed with your restaurant's name, logo, or website. They can also be used as a promotional item to advertise a special drink or menu item. These custom matchboxes are a cost-effective way to increase brand recognition and create a memorable experience for your customers.
Sudek USA custom printed cigar matchboxes are a popular item for hotels and resorts. They can be placed in guest rooms as a complimentary item, along with other amenities. These matches can also be used as a marketing tool to promote hotel services or to advertise local attractions. Personalized cigar matchboxes are a great way to make your guests feel welcome and create a lasting impression of their stay.
Lipstick shaped logo matchboxes are perfect for restaurants, office spaces, weddings, parties or corporate events. It is a perfect keepsake favor for your guests to use later. This unique shape displays your brand from every angle and makes an unforgettable statement.
Promotional matches create awareness, builds your customer base, promotes brand loyalty, brings referral business, brings repeat business, and are affordable!
Having custom promotional lipstick cigar matchboxes for your business will have its long-term advantages. After 29 years of experience, we are sharing our wisdom that custom personalized fire place cigar matches are some of the very best promotional products. Custom and personalized matches will boost your sales and business.
Sudek USA custom printed personalized matchboxes are a versatile marketing tool that can be used for a variety of events and businesses. They are affordable, customizable, and can leave a lasting impression on your customers. Whether you're looking to promote your brand, commemorate a special occasion, or create a memorable guest experience, custom printed lipsticks matches are the way to go!
Match Tip Color Options
Stock Match tip Color: Choose from 1 of our 16-stock color match tip options.
Custom Match tip Color: We can approximately match PMS colors on match tips for an up-charge. Color matches are NOT 100% accurate, due to the chemical composition of the match tips. Minimum Order PMS Match tips: 25,000 pcs.
Prices: Include printing each ink color on 4 sides of box with striker friction in the middle of the 4th side. Extra charge - matte varnish, PMS-2X inks, fluorescent inks, and metallic inks (gold, silver, copper, or bronze), spot shiny varnish.
Material – Wood matchsticks
Size- Four Sides: each 4½" Long x ¾" Wide (15 Matches / 4-Inch)
Shipping Case - 50 matchboxes per inner caddy x 20 caddies = 1,000 matchboxes per carton. Dimensions: 20.6" x 13.8" x 12.2" = 2.0cft. Weight: 26 lbs.
Multiple shipments/split billings within one year: On total quantity order of 60,000 or more, minimum shipments of 12,000 boxes are acceptable at no extra charge, not to exceed 4 shipments per order.