Top sellers from Keychains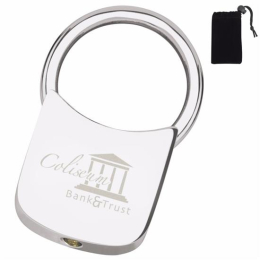 Custom laser engraved keychains
Description
Custom printed promotional laser engraved keychains are an excellent way to promote your brand or business. Sudek USA custom branded promotional twist lock laser engraved keychains can be personalized with your company logo or message, making them a great marketing tool that can be used at trade shows, corporate events, and even as employee gifts.
Branded laser engraving is a high-quality and durable printing method that ensures your logo or message will not fade or wear off over time. This process uses a high-powered laser to burn the design into the surface of the custom printed engraved keychain, leaving a crisp and clear impression that is sure to catch the eye of anyone who sees it.
Custom printed promotional laser engraved keychains come in a variety of styles. Some even come with additional features, such as LED lights or bottle openers, making them even more useful and practical for everyday use.
In addition to their promotional value, custom promotional keychains also make great gifts for clients, customers, or employees. They are small and easy to carry, making them a convenient accessory that people will use and appreciate.
Overall, custom printed promotional laser engraved keychains are an affordable and effective way to promote your business and increase brand recognition.Custom promotional laser engraved keychains will make a great handout to promote your business. Your patrons will carry your company advertising printed key chains on daily basis. It will remind them of your establishment. We will laser engrave your logo or text on the front and or backside of the keychains. Custom printed keychains promote not only hospitality establishments, but also corporate establishments. Promotional twist lock laser engraved keychains include black velour gift bag.