Top sellers from Matches, Matchbooks and Lighters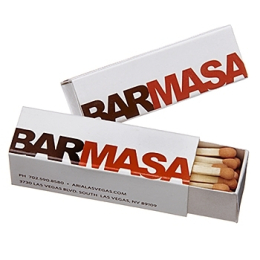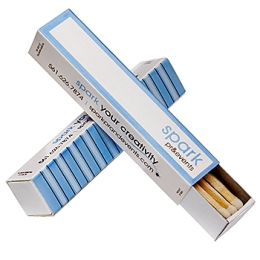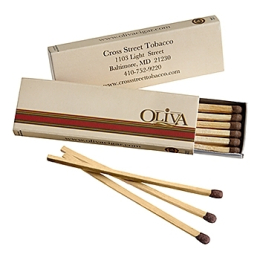 Custom Printed Matches - Style 1020
Description
Wholesale matchboxes are a great option for events and event organizers who want to provide a practical and unique item to their guests. Customized wholesale matches with the event logo, slogan, and professional design will make a lasting impression on attendees.
Here is the most cost-effective advertising product ever invented! You get 3 exposures in 1 unit: front, back and side. The Wholesale matchboxes has no equal in its low cost per use. It shows off your logo, message, and contact information. It's your functional business card that customers take home and keep. Custom printed wholesale matchboxes are great marketing tools for lounges, bars, restaurants, music venues, and more!
Sudek USA wholesale matches are an excellent option for event organizers who want to provide a practical and unique item to their guests. They are cost-effective, customizable, and eco-friendly, making them a great choice for events of any size. By providing customized wholesale matches to guests, event organizers can create a lasting impression and enhance the overall experience of the event.
Custom printed wholesale matchboxes are also practical items that your customers are likely to use. While many people now use digital devices to light candles or start a fire, there are still plenty of situations where a matchbox can come in handy. By providing your customers with a practical and useful item, you can increase their goodwill towards your wholesale and establish a stronger relationship with them.
Sudek USA custom printed wholesale matchboxes are an excellent marketing tool for wholesales. They offer a cost-effective way to promote your brand, while also providing a useful item for your customers. By displaying your wholesale's logo or other branding elements on a matchbox, you can increase brand awareness and make your wholesale more memorable to customers. So, if you're looking for a simple and effective way to promote your wholesale, consider Sudek USA wholesale matchboxes.
Having custom printed wholesale matchbooks or custom printed wholesale matchboxes for your business will have its long-term advantages. After 30 years of experience, we are sharing our wisdom that custom personalized matches are some of the very best promotional products. Custom and personalized matches will boost sales in any business.
Custom printed matchbooks and custom printed matchboxes will promote your brand awareness. Having the company name and logo on merchandise such as custom printed matches, custom printed bags, custom printed coasters, custom printed napkins custom printed pens or other high quality promotional products is always the way to go! Every person carrying your branded matches, bags and pens will think about your business and promote it for you. Custom printed wholesale matches have been a success for businesses for decades, so get yours today!
Here are some reasons why wholesale custom printed matchboxes are an excellent choice for events
Practical: Wholesale matches are a practical item that can be used by guests during and after the event. They can be used to light candles, cigarettes, or even a bonfire if the event is outdoors. Providing matches to guests shows that the event organizers have thought of their needs and wants.
Unique: Wholesale custom printed matchboxes are a unique item that can stand out from other typical event souvenirs like t-shirts or keychains. By customizing the matches with the event's logo or artwork, they can become a keepsake that attendees will remember long after the event.
Cost-effective: Wholesale matches are an affordable option for event organizers who want to provide a customized item to their guests. Ordering in bulk reduces the cost per unit, making it a cost-effective option for events of any size.
Customizable: Wholesale custom printed matchboxes can be customized with the event logo, slogan, or artwork, providing a unique and personalized item for guests. This customization can create a sense of unity among attendees and make them feel like they are a part of something special.
Eco-Friendly: Wholesale matches can also be an eco-friendly option for events that want to reduce their environmental impact. Wholesale custom printed matchboxes are biodegradable and can be disposed of safely, unlike plastic souvenirs that can end up in landfills.
Match Tip Color Options
Stock Match tip Color: Choose from 1 of our 16-stock color match tip options.
Custom Match tip Color: We can approximately match PMS colors on match tips for anecdotical up-charge. Color matches are NOT 100% accurate, due to the chemical composition of the match tips. The minimum order for PMS match tips is 25,000 matchboxes.
Prices: Include printing each ink color on entire outside cover (front, saddle, back, and flap) with UV gloss coating on duo-white stock. Striker friction on back. Extra charges will apply for matte varnish, PMS-2X inks, fluorescent inks, and metallic inks (gold, silver, copper, or bronze) and spot shiny varnish.
Note: Printing available on inner tray drawer for an additional charge.
Material – Wooden matchsticks
Size Top/Bottom: 2¼" x 1-3/8"; Two Sides: 2¼" x 3/8" (23-24 Matches / 2-Inch)

Shipping Case:50 match boxes per inner caddy x 50 caddies = 2,500 match boxes per carton. Dimensions: 24.2" x 15.2" x 11" = 2.3cft. Weight: 34 lbs. Packing on a particular order could be changed from these standard specifications without notification.

Multiple shipments/split billings within one year: On total quantity order of 60,000 or more, minimum shipments of 12,500 boxes are acceptable at no extra charge, not to exceed 4 shipments per order.