Top sellers from Matches, Matchbooks and Lighters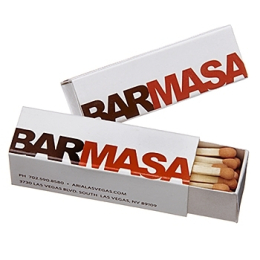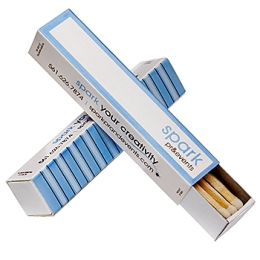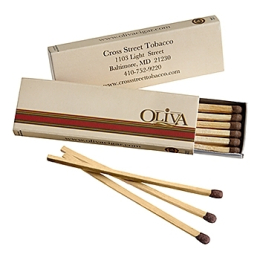 Custom Printed Cigar Matches - Style 1018 -3L
Description
Custom printed marketing matchboxes have been a popular tool for decades. These custom printed matchboxes with 3-inch long, can be customized with a company's logo or message, making them a great promotional item. Marketing matchboxes are affordable to make it an ideal promotional item for corporate or hospitality businesses of all sizes. Custom printed marketing matches are easy to distribute and can reach a wide audience.
The key aspects of using marketing matchbox tool are to ensure that the company's logo or message is prominently displayed. Sudek USA custom printed matchbox cover is the perfect place to print a company's logo or message as it will be visible every time the matchbook is used. This can help to increase brand recognition and generate leads.
The design of your custom printed matchboxes is also important in ensuring its effectiveness as a marketing tool. Your matchbox should be designed in a way that reflects the company's brand and image, while also being visually appealing. A well-designed marketing matchbox will catch the attention of potential customers and increase the likelihood of them using the matchbook and remembering the company. Sudek USA will help you to achieve this goal.
Custom printed marketing matchboxes can be distributed in a variety of ways, making them a versatile tool. They can be given out at trade shows, events, or mailed directly to customers. They are also a popular item in hotel, clubs, pubs, bars and restaurants, where they can be customized with the establishment's logo and used as a promotional item.
In addition to their marketing benefits, can also be useful for your patrons. Custom printed matchboxes can be used to light candles and start camp fires. This adds value to the matchbox and increases the likelihood of it being kept and used by the patrons. Custom printed matchboxes are great marketing tools for lounges, bars, restaurants, music venues, and more!
Marketing matchboxes show off your logo, message, and contact information. Kept handy on a fireplace mantle or kitchen shelf, these matches are your company's functional business cards and useful reminders for your customers to return. It's low-cost advertising with no expiration date! Extra-long 3-inch wood matches are ideal for candles, barbecues, campfires, pipes & cigars, fireplaces, gas grills and stoves, and for other household necessities. With each customer's use your logo matchboxes promote repeat business.
Sudek USA custom printed matchboxes are a cost-effective and versatile marketing tool that can be used by businesses of all sizes. By ensuring that the company logo or message is prominently displayed and the design of the marketing matches reflects the company's brand, businesses can increase brand recognition, generate leads, and reach a wide audience while also providing a useful item to their patrons.
Marketing

custom printed matchboxes and matchbooks could include unique messages, colors and expose your logo to new audience.

Custom printed advertising match boxes

and match books could be used for a wide range of marketing purposes.
Enhancing your brand with marketing matches in corporate or hospitality industry.
All successful growing hospitality business is using custom printed matches. Walk into any top Marketing, club, bar, or hotel, and one thing that you will notice is how much attention goes into the look and feel of their matchboxes and matchboxes.
People that do not smoke keep your promotional marketing matchboxes in their home or office to light candles. Where do you think, they will go eat next time or buy their product from? In short, timeless, elegant and unique book and box matches are the perfect way to enhance a brand.

One of the important ways to promote your business are corporate trade shows and company events. These events are a great way to help market your company, especially if you leave out custom printed matchboxes and matchbooks at a table or booth for attendees to take.

There are many promotional items that business visitors will take, but how many of them are actually used later? That's the great part about advertising matchboxes and matchbooks. The Marketing custom printed matchboxes are inexpensive and practical enough to be used by anyone. Your potential clients will be using your marketing matches throughout the year, and whenever they do, they will be thinking about your business.
Match Tip Color Options
Stock Match tip Color: Choose from 1 of our 16-stock color match tip options.
Custom Match tip Color: We can approximately match PMS colors on match tips for an additional up-charge. Color matches are NOT 100% accurate, due to the chemical composition of the match tips. Minimum order on custom PMS match tips is 25,000 matchboxes.
Prices: Include printing each ink color on 4 sides of box with striker friction in the middle of the 4th side. Extra charge - matte varnish, PMS-2X inks, fluorescent inks, and metallic inks (gold, silver, copper, or bronze), spot shiny varnish.
Material- Wooden match tips
Note: Printing available on inner tray for an extra charge
Size- Top/Bottom: 3-5/16" x 1-1/8"; Two Sides: 3-5/16" x 3/8" (12 Matches / 3-Inch).
Shipping Case: 50 match boxes per inner caddy x 50 caddies = 2,500 match boxes per carton. Dimensions: 20.6" x 13.8" x 12.2" = 2.0cft. Weight: 29 lbs. Packing on a particular order could be changed from these standard specifications without notification.

Multiple shipments/split billings within one year: On total quantity order of 60,000 or more, minimum shipments of 12,500 boxes are acceptable at no extra charge, not to exceed 4 shipments per order.